Cost Effective Home Warranty Plans
PUBLISHED: June 9, 2014
•
4 MINS READ
On our website, we have a host of comparison tools and a good number of informative articles related to home warranty plans. We don't want to single out a plan that's the cheapest home warranty out there, but we can help you find one that suits your budget and offers value for money. This website also provides ratings and reviews of all the leading Home Warranty companies, so you can choose the best home warranty companies and cheapest home warranty here. Read this blog to know some of the cost effective home warranty plans.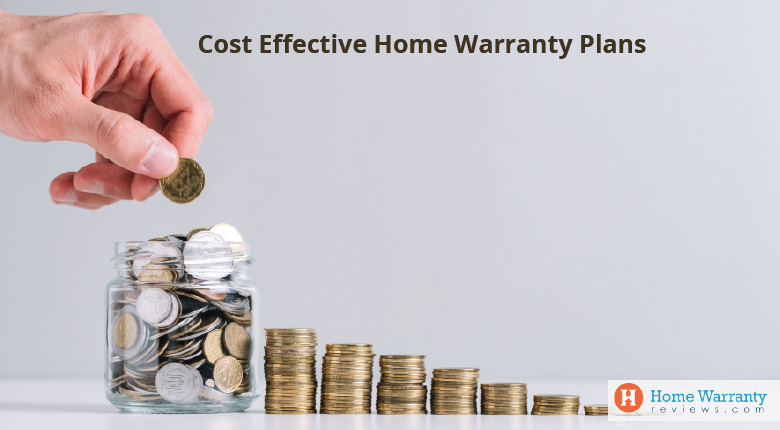 A homeowners home warranty usually is a service contract covering repairs and replacements of appliances and systems for a period of one year for your home. All you have to pay is the deductible and the 1 year home warranty cost.
First, do a home warranty plan comparison in your area and choose the ones you like. Then sort them in the order of annual premium, this will give you the list of home warranty companies with lower premiums. You can also sort by Deductible to find out who offers the least amount of Service Call Fee per incident.
May we also suggest that choosing a plan based only on home appliance insurance cost is not a great idea. Sometimes, these inexpensive plans may omit a lot of appliances and perils and you may end up paying for something that does not benefit you in any way. On an average, home warranty cost range anywhere between $250 to $1000 per year. In addition to this you will have to pay a service call fee each time you raise an issue
So, how do you choose a plan that provides value for my money?
First, select a reputable and highly rated company and then select a plan that best suits your budget.
How to Choose the Best Rated Company?
On the same page, sort companies by Weighted Avg. Rating option. This will give you the list of home warranty companies with top consumer ratings. Do ensure that you go through these Frequently Asked Home Warranty questions to ensure that you get the best home warranty company.
Selecting a good home service contract company is an imperative as the quality of the company will be reflected in all the home warranty services you receive from them. Ideally a good company is one that
Offers a variety of warranty plans that have varied coverages and options.
Does not over charge or charge extra fees
Places the well being of the customer above profits
Offers home warranty services by qualified and experienced technicians.
Does not deny claims on vague grounds.
Has a round-the-clock customer service facility.
Does not cause unnecessary delays in processing claims
Behaves ethically.
More often the company with highest ratings is likely to meet these criteria.
Benefits of a Home Warranty Plan
If you choose the right company and plan, it will offer the following benefits:
Budget protection against unexpected expenses incurred due to repairs and replacements of damaged household devices.
Covers all the major appliances and systems in your home.
Increases the value of your property at the time of sale.
Comes at a cost that is only a fraction of the cost involved in repairing damaged devices.
It will repair your devices if the damages are the ones that are not omitted by the plan. If necessary, the damaged appliance will be replaced with a brand new one.
You will not have to look for a technician when a problem arises. You will just have to place a call to your warranty company and they will send a technician to your doorstep to evaluate your issue.
Although these features are offered by a majority of the Appliance Warranty plans out there, there a few things that you must keep in mind.
A home warranty company will always try to repair and not replace your device.
Some not-so-good companies can deny your claims on vague grounds or by stating fine print from the warranty contract.
There may be conflicts regarding the diagnosis made by the technician. In some cases, you may feel that the problem is something else and not what the technician diagnosed. In such cases, the appliance warranty company may listen to the word of the technician.
Pre-existing conditions are not covered by many companies. So it may not be a bad idea to get your home inspected before availing a home warranty plan.
Issues caused due to improper maintenance are also not covered.