Reasons Why a Home Warranty Is Worth the Cost
PUBLISHED: June 19, 2019
•
6 MINS READ
When it comes to a home, there are several appliances and systems that require maintenance and constant care. The cost of maintenance could prove costly over time and this is where a home warranty would step in.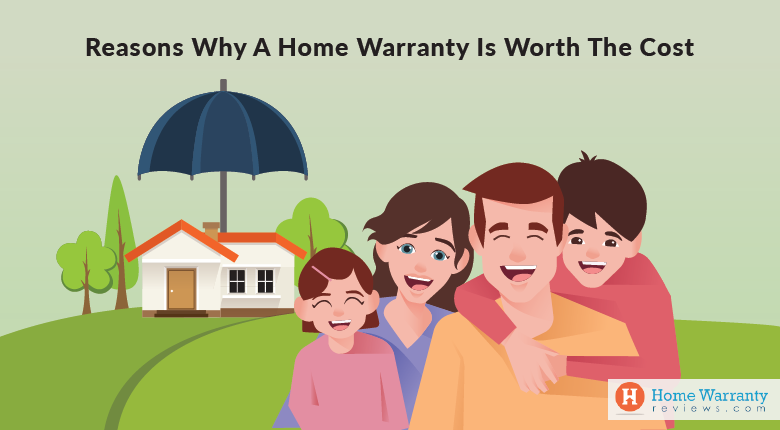 Usually, warranties are common with new construction homes but this is often mistaken as a home warranty. A home warranty is also known as a home service contract, it covers the repairs and replacement costs of systems and appliances that are covered.
This might seem like a hefty out of pocket expense but it could save you a few hundred dollars in repairs of various items over a period of a year.
Are Home Warranties Worth the Cost?
As a homeowner, you might be offered to buy a home warranty to save money on home repair services. Though it may cost you a certain premium, the cost of a home warranty is lesser than repairing several items all year round.
Home warranties may cost around $300 to $600 for a basic plan and it would increase by $100 to $500 for plans with additional coverage. This is for homes with more comprehensive plans and homes which are larger than average.
Sometimes, home warranties can help save you a substantial amount on expensive home repairs. There are times when you might feel that you have lost money on a home warranty. This is when you do not need repairs or if the warranty does not cover a particular claim.
But when you come to think of it, you can simply submit a claim online or on the phone and you will have a contractor come out and complete the repair.
Why a Home Warranty is Worth the Cost?
Here are five reasons why a home warranty is worth the cost:
1. Saves Money on Home Repairs
As a homeowner, you would know that home repairs can be quite expensive. Irrespective of how well you maintain your home, there are some things that simply break down. In time these expenses can run into hundreds or thousands of dollars.
You would have to shell out constantly as sometimes there would be multiple appliances that need maintenance at a time.
But with a home warranty, it can protect you from certain repairs. These warranty plans are an excellent choice if you do not have a big budget for home repairs. Also, if you do not want to make a dent in your savings.
In case a covered item breaks, you can call the warranty company and have a technician fix the item. If the item cannot be repaired then the warranty company would replace them. A warranty plan is not required at times but it is highly recommended. It will give you both peace of mind and eliminate the fear of owning a home.
2. Provides Comprehensive Coverage
Home warranties are great because they provide comprehensive coverage. They do not provide coverage for all items. This means that you will have to maintain cash for an emergency fund for other home maintenance.
Though the warranty does not protect you from all home repairs, it covers major home components. This can save you thousands of dollars. Plans usually cover appliances, electrical, plumbing, HVAC systems, and water heaters.
3. Limited Waiting Period
The best part about a home warranty is that there is no long waiting period. If you are a homeowner then you can sign up with a home warranty company and have a waiting period for 15 to 30 days.
Once you sign up and pay the premium, you can begin requesting services. A home warranty would require no prior inspection before signing up and you can get a plan even if the home or appliances are older.
4. Affordable Coverage
In case you have problems with plumbing, electrical, appliances or the HVAC system then technicians charge a service fee just to come to your home. Also, you would have to pay for the repairs and replacement cost out of pocket.
Though home warranties provide comprehensive coverage, it is more affordable than you might think. Most premiums range from $300 to $600 a year and this is based on the flat $50 to $100 service request.
5. Save Time and Energy
There are several times where you cannot DIY home repairs. This is reason enough to have a repairman fix your appliances and systems. At times, you would have to shop around and compare prices.
A home warranty company takes care of all the hard work for you. Your warranty company has partnerships with licensed technicians and contractors all year round. Companies give you the option of calling for a request or submitting it online.
After connecting with the home warranty company, the technician contacts you and sets up a suitable time. All things are streamlined for your convenience. This means that you do not have to spend time worrying and enjoy peace of mind.
What is the Best Home Warranty?
Let's compare the Best Home Warranty Companies:
| | | |
| --- | --- | --- |
| | American Home Shield | The Home Service Club |
| Best for | Our top pick: Most flexible plans | Flexible, customizable coverage options |
| Service fee | $75, $100, or $125 | $95 |
| Customizable coverage | Yes | No |
| Recall period | 60 days | 90 days |
Can Home Warranties Save You Money?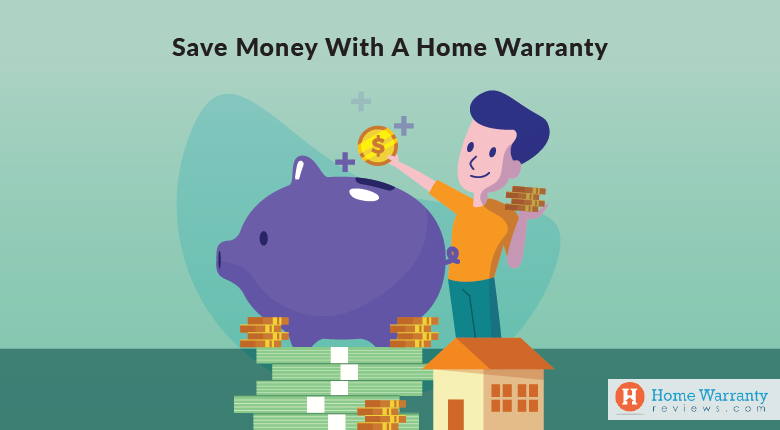 Based on the type of home and things that happen in your home, home warranties can save you money. It depends on the type of repair needed, the home warranty cost, what the repair would cost without a home warranty.
Most home warranties have a service fee per visit and some do not ask for one. This fee ranges from $30 to $75. Do read the terms of the home warranty if there's a service fee. Check out American Home Shield as they offer customers some really good plans to protect your home's systems and appliances.
Here is a comparison of home repairs, the average repair costs and the cost of using a home warranty. See how the home warranty saves the homeowner money.
| | | |
| --- | --- | --- |
| Repair | Avg. Repair Cost | Avg. Cost With Home Warranty |
| Hot Water Heater Replacement | $550 to $1,150 | $300-$600 annually + service fee |
| HVAC Repair | $340 | $300-$600 annually + service fee |
| HVAC Replacement | $5,210 | $300-$600 annually + service fee |
With a home warranty, you can save money based on the type of repairs that you need. A home warranty would make you feel more secure in purchasing a home. This is especially needed for older homes with old appliances and systems.
For some homeowners, this is enough of a reason to invest in a home warranty. If you want to buy a home warranty, try to sign up for it when you buy your house, as you'll likely get the best price. You can also ask for one from the sellers before you buy your home.
You should also use the Home Maintenance Calculator, a free tool from HomeWarrantyReviews.com. This will help you determine the difference in home maintenance costs between paying out of pocket and using a home warranty.
What Does a Home Warranty Cover?
Home warranty programs generally cover electrical, plumbing, HVAC systems, and home appliances. Common home appliances that would be covered include the washer, dryer, oven, stove, and garbage disposal. You can sometimes purchase additional coverage for other parts of your home, such as your swimming pool.
Pros of Home Warranties
Home warranties provide convenience, especially for older homes. If you own a new home, you would have to maintain a relationship with several specialists. In case anything breaks then you can simply call the home warranty company and they take care of the rest.
With a home warranty, you can save money. If there are a lot of repairs that exceed what you pay for a home warranty then you will save money.
Cons of Home Warranties
You will have to pay for a home warranty even on years where you do not need any home repairs. If it just a small repair then you will have been better off just paying out of pocket.
Sometimes your claims would not be serviced as it would not come under the covered items or if does not meet the pre-existing conditions.
Exclusions and Limitations of Home Warranties
You should know that home warranties do not cover everything. This means that you should read the contract carefully and see what is not covered. Homeowners would then become frustrated when they find that appliances are excluded from coverage.
Additionally, home warranties cover regular wear and tear. If a person, natural disasters or intentional act damages the covered appliances or systems then the home warranty will not cover it.
While home buyers are often required to get homeowners insurance along with their mortgage, home warranties are a fully optional purchase. Basic coverage starts at about $300 and goes up to $600 for more comprehensive plans.
In many locales, it's normal for a seller to pay for the coverage because it's a seller benefit. Why? Because then the buyer won't be calling the seller after closing if something breaks. Many real estate agents will also give buyers a home warranty as a gift at closing.
With a home warranty service contract that includes your HVAC system, homeowners enjoy covered repair or replacement of air conditioning and heating system units and parts. HVAC systems are typically covered under home warranties. They may be included in a basic or upgraded plan or require an add on to your contract
Builder warranty policies typically cover up to 10 years of structural defects; one year of coverage on items such as stucco, drywall and paint; and two years of coverage on HVAC, plumbing and electrical systems. Appliances are typically covered for about six months.
While roof repairs are not typically included in standard packages, roof leaks are usually an additional coverage choice. Keep in mind, most warranties only offer limited roof leak coverage. If a roof requires a complete replacement, home warranties do not cover this cost.