How to Use Your Home Warranty In the Best Possible Way?
PUBLISHED: May 21, 2020
•
4 MINS READ
Your home warranty plan is an investment that protects the important devices in your household. Though warranties seem the best solution to protect your pocket from unexpected costs, you must be aware of the different aspects of home warranties. This will help you use your policy in the best possible way to get maximum benefits. Once you are aware of how to use your home warranty in the best possible way, your mind will be at peace, and you know you are getting value for the money you paid. 
This post will help you understand how to get the best of your home warranty policy.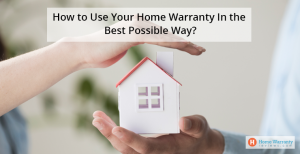 Here Are The Important Factors 
(1) Know What Devices are Covered in Your Plan
You should know what systems and appliances are covered in your home warranty plan. Let's say you have bought a comprehensive plan, and that covers your air conditioning system. If your air conditioner breaks down you should be aware that it is covered in the plan you have chosen. 
You must immediately file a claim for this device and get it repaired or replaced. Delaying for filing your claims can lead to a lot of problems later on. You must also be aware if you file a claim for a device that is not covered you will be charged the deductible amount. 
(2) Make Sure to Get the Best Contractors for the Job
While filing a claim, ask your home warranty company for details of the technician. You can check the technician's ratings on Yelp or Angie's List, and if you are not happy with the rating, reach out to the warranty company and tell them to send a better technician to do the job.
 A technician is an important person who will guide you through what needs to be done to your appliances. It is vital that you get a good person to do the job.
(3) Read Your Contract Thoroughly 
Important details are mentioned in the fine print of your home warranty contract. Some of them include home warranty cost, whether pre-existing devices are covered in your warranty, deductibles, add on coverage if applicable, etc.
 You must also check if certain parts of your systems are covered in your contract. Eg, air conditioners, condenser coil, evaporator coil, etc.  Reading your contract will help you know more about your coverage, and help you get the best out of the services the home warranty company offers. 
(4) Check if the Repairs or Replacements are Done Well
Once you file a claim a device will either be repaired or replaced. When this process is complete check the appliance or system thoroughly, make sure it is working and running smoothly. If you find out of any problems with the devices, immediately contact the home warranty and tell them a complete job has not been done. 
(5) Be Mindful When a Claim is Denied
If a claim is denied for any system and appliance covered in your warranty plan, understand the reason why it has been denied. At times warranty companies may deny claims because the problem was pre-existing. If pre-existing conditions are covered under the home warranty plan, show the company the contract and inform them that pre-existing conditions are covered under the policy. 
(6) Push for Appliance Repairs Rather Than Replacements   
Many warranty companies will try to replace your appliances, and at times you are required to pay an extra fee including your deductibles. Warranty companies do this so they can earn that extra buck. If an appliance is repaired you only pay the deductible amount stated by the company.
 If the device is really in bad shape and the device needs to be replaced, then let the company replace the device, and try to make sure you are not required to pay any extra amount. 
Conclusion 
Now that you know how to get the best out of your home warranty companies, you should check out some of the top companies in the market. Reading people's experiences of how warranty companies dealt with them, will also give you an idea, of the different aspects of home warranty companies. This will also help you understand how these people made the best possible use of these companies.