What Does HSA Home Warranty Cover?
PUBLISHED: July 27, 2020
•
6 MINS READ
Today there are several top home warranty companies offering coverage to protect your home's systems and appliances. One such company is HSA Home Warranty. The company has been in business since 1984 and offers high-class service to all its customers. If you wish to know more about HSA home warranty coverage options, you have landed on the right page!
This detailed post will help customers understand what HSA home warranty covers and lots more. But first, we will guide you through the company's plans.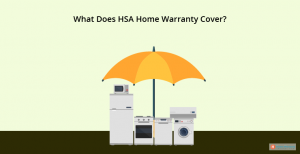 HSA Home Warranty Plans
The company offers a range of plans for both homebuyers and sellers. To help you understand these plans effectively, we've listed them out for you.
Basic Plan Seller
Basic Plan Buyer
Buyer 7 Star Upgrade
Optional Coverage For Buyer
Tip – Depending on whether you are a home buyer or seller, you can choose a plan accordingly. To select the perfect plan, you must understand your requirements and budget before finalizing it.
HSA home warranty plans protect a wide range of systems and appliances. Some of them are listed below.
HSA Home Warranty Coverage
Now that you have understood what plans the company offers, let's walk you through the coverage aspects and what items are covered.
Basic Plan Seller– Under this plan, you get protection for some of the popular items like pump, and ductwork, water heater, water dispenser, water gas drain waistlines, polybutylene leaks, and drain line routing.
You will also receive protection for your toilet tank, and bowl, plumbing parts, sump pump, whirlpool bathtub, and electrical system. Your attic fan, exhaust fan, ceiling fan, garage door opener, oven stovetop, and built-in microwave oven are also covered.
This plan also includes coverage for your dishwasher, trash compactor, and garbage disposal.
Failure's due to lack of maintenance, water heater sediment, rust corrosion failure, lighting fixture, doorbells, central vacuum, and refrigerator are also protected.
Basic Plan Buyer– This plan offers coverage for almost all the same systems and appliances as the previous plan. But you should note this plan will not cover your lighting fixtures, doorbells, central vacuum, and refrigerator.
Buyer 7 Star Upgrade– The plans protect several of a home's critical devices. If you opt for this plan, you will receive coverage for crane charges on the rooftop and air conditioning or heating equipment.
Protection is also provided for your central heat and air registers, grills, filters, heat lamps, central air refrigerant: recovery, non-ducted window or wall conditioner, and your water heater expansion tank.
The other items you can protect under this plan are faucets, showerheads, toilet replacements, burglar fire, smoke alarms, garage door opener: hinges, springs, keypad, remote transmitter, and refrigerant recovery. Trash compactor lock key assembly & bucket, dishwasher racks, baskets & rollers, built-in microwave interior, lining door glass, and clocks and shelves are covered under the Buyer 7 Star Upgrade plan.
This plan also offers protection for your oven range, interior lining, clocks, rotisseries, racks, handles, knobs, dials, disposal of replaced equipment up to $250 per occurrence. Improper installation, repairs, inconsistent heating or air conditioning, $250 on code violations, $500 modification on air or water heater and central heater will also be taken care of under the plan.
Optional Coverage For Buyer– Under this plan, customers receive coverage for their water well pump, septic system, water softener, clothes washer, and dryer, home freezer, roof leaks, hot tub, swimming pool, and hot tub/pool combination.
Depending on whether you are a home buyer or seller, you must opt for a plan. Depending on whether you are a home buyer or seller, you must opt for a plan. You should also note that HSA plans do have limitations, and specific components of the systems and appliances may not be covered.
It is recommended that you understand what elements do not get covered, before signing up for the policy. Doing this will help you get a better understanding of the company's coverage policies.
Make sure you read the contract before signing up for any of the plans that the company offers. The agreement will contain accurate details about the price of these plans, premiums, deductibles, etc.
Understanding HSA Claims
Once you have signed up for a plan and notice any of your covered systems and appliances giving trouble, you must file a claim. To register your claim, you can either call up the company's 24/7 customer care team or file a claim online. Once your request gets logged with the company, a technician will be assigned to repair or replace your devices.
Note that, only if a claim gets filed, will the devices get fixed. You must also understand the duration of repairing the systems or appliances may vary depending on their condition.
 Advantages of HSA Coverage
The company offers several benefits to its customers. We have listed out these advantages for you:
Comprehensive coverage for most of your systems and appliances
Outstanding network of technicians
A friendly customer care team
An experienced home warranty company that has been in the business for quite some time
Read HSA Reviews Online
As a potential customer, or if you already are an HSA client, reading other customer's reviews is beneficial. You can read reviews online to understand important details of different HSA customers' experiences. This will help you understand the company's services better, and help you make the best decision for the future.
Other Top Home Warranty Coverage Options
Today, several home warranty companies provide excellent coverage options. These companies offer plans at competitive prices and lots of additional benefits. Some of the top warranty companies include American Home Shield, Choice Home Warranty, Total Home Protection, The Home Service Club, etc.
The Final Word
HSA Home Warranty is a good option if you want to protect your critical systems and appliances. Depending on your unique requirements and budget, choose an HSA plan, and keep your home and pocket protected.
One of the added advantages of this company is that realtors get an edge if they are tied up with the organization. This helps them save time, increase buyer confidence, and get more listings. Make sure to check out what the company offers if you are a real estate professional.