A Detailed Guide To Advanced Home Warranty And Its Services
PUBLISHED: October 13, 2020
•
5 MINS READ
Today, several top home warranty companies in the market offer services, making it difficult for you to pick a company that best suits their needs. For complete protection of all your home's systems and appliances, Advanced Home Warranty is a good buy. The company offers services in most states of the country, excluding Washington, California, and Oklahoma. 
However, since Advanced Home Warranty is a reasonably new company in the industry, you may not know much about this organization. This detailed post will tell you more about Advanced Home warranty in detail and its services, plans, and lots more.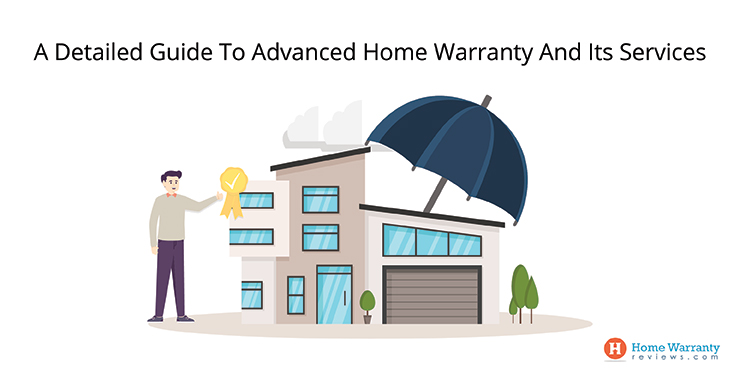 Key Features of Advanced Home Warranty 
The key features of the Advanced Home Warranty company make it stand out against its competition. It includes top-class customer service, affordable deductibles, and so on. Some of the other prominent aspects of Advanced Home Warranty are mentioned below:
You can avail of the company's coverage 30 days after signing the contract.

The option to speak to customer care via the phone is available 24/7.

Once a claim is submitted, the company takes two working days to fix the device and four days on weekends and holidays.

If you are unhappy with Advanced Home Warranty services, you can cancel the policy free of charge within 30 days.

The service call fee charged by the company is affordable and costs between $60- $75. 
Important Aspects Of Advanced Home Warranty Plans
The company offers two different plans to choose for consumers. These plans cover a range of essential systems and appliances for your home to function smoothly. Find out more about what's these plans cover below:
Basic Plan
This plan covers regular systems and appliances for any home. Some of the critical devices covered included are dishwashers, garage door openers, microwaves, etc.
Total Plan 
This plan covers a comprehensive list of devices. The critical systems and appliances covered under this option are refrigerators, clothes dryer, plumbing, heating, electricals, and lots more.
Before opting for a plan you must understand your requirements. If the home contains several systems and appliances, the Total Plan is a good buy. On the other hand, if you have just moved into a new home or your property has few systems and appliances, the Basic Plan is a good option. 
Advanced Home Warranty also offers patrons an optional coverage option. Some of the items under optional coverage are roof leaks, swimming pools, and standalone freezers.
The Cost of Advance Home Warranty Plans
It is vital to factor in the cost of plans before going ahead with coverage. The table below will help patrons understand the costs of these plans.
| | | |
| --- | --- | --- |
| Plan | Annual Cost | Monthly Cost |
| Basic Plan | $370 | $33.33 |
| Total Plan | $450 | $40 |
Depending on your finances, you could either pay for these plans monthly or annually. However, if you pay for your plan annually, you are saving money in the long run. 
Advanced Home Warranty Claims and Contractors
It is of great importance that customers know how to file a claim with Advanced Home Warranty. To do so with ease, you can check out the following steps to file an effective claim.
If you notice a covered device malfunctioning reach out to the Advanced Home Warranty customer care team.

Customer support will assign a trained Advanced Home Warranty contractor to fix the problematic system or appliance.

The device will either get repaired or replaced or replaced depending on the problem with it.

Each time you file a claim with the company, you must pay the fixed service call fee.  
Why Reading the Fine Print of Your Home Warranty Contract Matters?
You must read the service contract in great detail before opting for the services of Advanced Home warranty. The policy will contain several vital aspects of your coverage that is soon to begin. You must check out the policy to understand what parts of the devices are covered under the protected systems and appliances.   
It is also important to read the policy's fine print to understand the duration of the policy. If you want to cancel, transfer, or extend your policy the necessary details will be mentioned in the contract. If you have any doubts about your policy, you must get in touch with customer care before the policy is active. It will make sure any unnecessary complications don't arise after you have signed up for the contract.
The Pros of Advanced Home Warranty Coverage
If you opt for an Advanced Home Warranty plan, you will be entitled to receive several benefits. Some of the essential advantages you will acquire are peace of mind, no hassle of looking for a contractor, comprehensive coverage under the company's plans, and the option to speak with customer support 24/7. 
Additionally, a home warranty policy does increase the value of your property. You can charge an additional amount for your assets while selling it, as an added layer of protection is provided for systems and appliances n the property. Also, buyers looking to purchase homes tend to pick properties with home warranties as it assures them with affordable coverage for critical devices in their new residence.
Considering the fact that an Advanced Home Warranty policy comes with so many benefits, it makes a lot of sense to purchase a policy at the earliest. However, it is vital to choose the perfect plan that suits your needs, the correct payment option that matches your financial situation, and reading the contract before finalizing.
The Final Word
If you are keen on comparing other companies in the industry, you can check out the top home warranty companies and read what customers have to say about them. Customer reviews are an essential aspect for new home warranty buyers as they point out critical details such as quality of services, timelines and the restoration of devices, claims process, etc.