The 10 Most Promising Home Warranty Companies in America
PUBLISHED: May 1, 2020
•
4 MINS READ
In these times of the pandemic, the entire family is spending a lot more time at home. Each member uses different devices for various purposes. Due to this extensive usage of devices chances of your appliances giving trouble are higher, but protecting them is vital. If any of your appliances breaks down you could end up spending thousands of dollars. But if you buy a home warranty plan or already have one, you will be saving a lot of money. This post will showcase the 10 most promising home warranty companies in America. 
So before checking out the best companies, let's take a look at how we have ranked these companies. We have listed out a few FAQs to clear your doubts.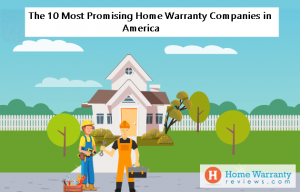 Here They Are:
What is the Complaint Resolution Program?
The Complaint Resolution Program lets homeowners connect with a company representative through our dashboard. A Negative review submitted is considered as a complaint and allows the company 30 days to solve the problem. If customers are not happy with the solutions the company offers, a review is published with several other reviews.  
 Each review has been checked thoroughly and verified by our team of editors, and only if eligible will it be published on our site. These reviews have been used to rank the top 10 companies.    
How Have We Ranked These Top 10 Companies?
We have rated these companies after reviewing thousands of customer testimonials. Our editors have researched several details about home warranty companies extensively, before ranking these top10 companies. Customers should also read these reviews on our site, and understand how other people's experiences with companies have been.
Now let's take a look at the 10 best home warranty companies in America. 
Here's the List
AHS home warranty offers coverage for different systems and appliances. Customers can choose any of the AHS plans according to their needs. Find out lots more about AHS right here.
HSC has a vast contractor network to take care of your devices. The company offers coverage for systems and appliances like your refrigerator, garage door opener, washers, dryers, garbage disposal, etc. Check out HSC plans today. 
SHW does provide coverage for mobile homes. SHW provides three different plans to suit the various needs of homeowners. You should check out lots more about SHW and its plans.    
CHW is one of the largest companies that has been serving customers for more than 11+ years. CHW also provides coverage for roof repair. The companies plans cover a range of systems and appliances.
APHW has been in the business since1999. The company does provide coverage for systems and appliances in your home, and also roof leaks. You can know more about plans, pricing, and deductibles that APHW offers its customer with just a click.   
SPHW offers its customers comprehensive plans to protect the devices in their homes. You can place a service call request online, at a very low trade service fee. Check out what devices are covered in SPHW plans by clicking here.
FAHW has been in existence since 1984. Customers can opt for a FAHW plan depending on their home's needs. You should find out more about these plans and coverage today.  
HWA started in 1996 and offers different plans for the varying needs of customers. HWA is headquartered in Illinois and does its best to provide top class service. Don't hesitate and get your free quote from HWA today.
HSA customers can avail extensive coverage for all their systems and appliances at home. Choose an HSA plan that suits your home's needs perfectly. The company offers customer support 24/7 if anyone has doubts that need to be clarified.   
Founded in 1990 OGHW offers coverage to protect all important systems and appliances in your home. Read OGHW reviews to know more about the plans and services offered by this company.
Final Words
Now that you know a lot more about these companies, you must claim your free home warranty quote. This is the best time to protect all your devices. Always choose a company that suits your home's needs.